This page is a collection of all the information I could find about the Robin SmartPAT 5500, including PDFs of the manual, the brochure and a partial component list. Thought it was worth saving before this information disappears off the web!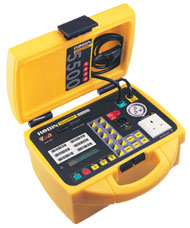 The SmartPAT 5500 is capable of performing Earth Bond, Insulation, Fuse Continuity, Run/Leakage and Flash Voltage Tests.The operating panel carries the feature buttons, serial port, floppy disk drive and the results display.
The lid of the case provides a storage area for the cables associated with the appliance tester.
Using the optional Smartwand or wide-head barcode scanner, appliance number, site details and test sequences can be rapidly entered directly into SmartPAT 5500.
Performs all tests prescribed by HSE.
Internal disk drive for data storage.
Tests 230V and 110V appliances.
Auto test feature to save time on site.
Flash Test.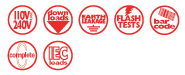 PDF downloads
Instruction Manual
Instruction Manual - alternate version
Spec sheet
Spec sheet - from catalogue
Accessories
Component list / PCB images
Maintenance docs for the SmartPAT 5000